About Us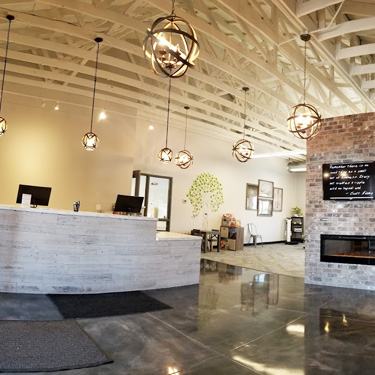 In 2014, Dr. Ross Crain and his wife Dr. Amy Crain (one of only a few female chiropractors in the area) purchased Inver Grove Chiropractic from a retiring doctor. In the fall of 2017, the building underwent a major renovation, tripling in size. Our modern wellness center is the most comprehensive in the South Metro area and includes a full-size fitness center and expanded adjusting space.
Providing Family-Friendly Care
We love caring for every member of the family in our practice, from babies and children to adults and seniors. It's especially fulfilling to see multiple generations of the same family come in for our natural health care.
Overall Practice Philosophy
To serve everyone in our community from infants and children to moms and dads to grandmas and grandpas to athletes and more.
Step on the Path to Wellness
With our popular 8 Weeks to Wellness® program, patients can make incredible changes to their health. The program features the following:
Chiropractic
Fitness Center/Personal Training
Massage therapy
Nutritional counseling
Meditation/prayer (mindfulness)
Get Fit!
With a personal trainer available at the practice, you can get customized workouts so you can get in the best shape of your life. From dumbbells and kettlebells to treadmills and rowers, our first-class fitness facility is the ideal place to shed pounds and get strong.
Rejuvenate your health and change your life. Contact our Inver Grove Heights chiropractic care center today to book a same-day appointment. We accept insurance.
---
About Inver Grove Chiropractic | (651) 451-1012